On April 16th, 2018, the strategic cooperation between Koran and Lin'an Logistics Park was achieved! After a long-awaited dedication, this strategic cooperation is the unanimous appeal of both Kosan and its customers!
…
On the one hand, lithium giant Ningde era IPO 24 days rushed meeting, refresh the IPO will be recorded; on the other hand, Jianr…
The FAW Liberation Engine Division (hereinafter referred to as "engine division"), the benchmarks and models for the reform, development and transformation of state-owned enterprises, actively responded to the national call, deepened reforms and inno…
With the rapid development of agriculture, modern pest control work has begun to shift quietly. The past has relied heavily on the prevention and control of chemical pesticides, and it is moving in the direction of green prevention and control. One of the important changes is tha…
The magnetic separator of the mineral processing equipment is equipped with a magnetic declination indicating device on the shaft head on the transmission side, and the adjustment angle of the magn…
Recently, Philips Lighting announced that the company's agricultural LED lighting solutions division in North America has added two employees, Ries Neuteboom and Jan Chechalk, who will all become members of the North American support team, focusing on high-yield and efficient fruit and vege
…
We all know that minerals containing iron has a certain magnetic element, usually have the use of magnetic separators to separate the different minerals. Magnetic separator equipment plays a very important role in a complete set o…
How to withstand more than two thousand degrees? Don't think about it because it doesn't need to be taken. The average m…
On January 7, 2018, the second meeting of the 16th People's Congress of Wuxi was opened. Wang Quan, mayor of Wuxi, announced in his government work report that following Suzhou and Nanjing, Wuxi became the third city in Jiangsu with a GDP of "breaking trillion" a…
On April 11, CSIC Power (Zhenjiang) and Guangzhou Shipyard International Co., Ltd. signed a 17-ship (57 sets) main engine and generator set supply agreement in Guangzhou. The total contract value exceeded 120 million yuan.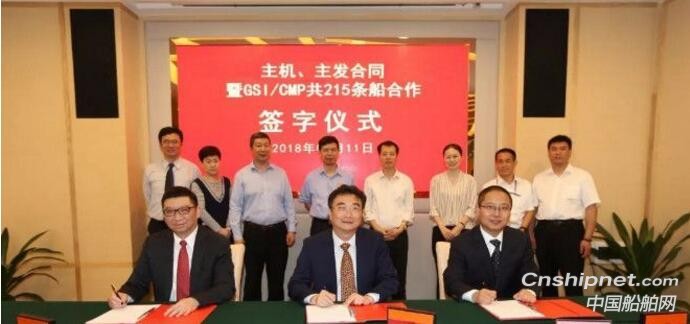 …
Due to the harsh and unpredictable nature of the seabed environment, submarine cables for offshore wind power are cable varieties that are difficult to design and manufacture. Submarine cables not only require special features such as waterproof, corrosion resistan…