Recently, in order to strengthen school-industry cooperation, United Power gave away a K12 engine to the Anhui Institute of Industry and Commerce for teaching and training. Yao Duozhong, dean of the Anhui Institute of Industry and Commerce, and Chen Xiaoyun, assistant general manager of United Power, attended the presentation ceremony and revealed the color for the engine.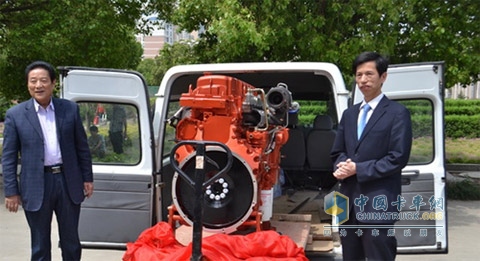 United Power presents K12 engine
At the ceremony, Chen Xiaoyun first thanked the school for its talents for the transfer of talents, and looked forward to the continuous improvement of the level of cooperation between the two sides, expand the scope of cooperation, and tap the potential of cooperation.
Anhui Vocational College of Industry and Trade (hereinafter referred to as "An Industry and Trade") is the first university and enterprise cooperation since the establishment of Yuchai United Power. Since 2010, the school has continuously delivered three batches of employees for the joint power. At present, United Power has 35 employees from An Industry and Trade. These employees work diligently and diligently in different departments and positions, and become indispensable backbones of the joint power.