Since the domestic refined oil price adjustment window period on November 30, 2017, oil prices in the international market have continued to fluctuate slightly. According to the current domestic refined oil price mechanism, the average price of the first 10 working days on December 14 and 10 before November 30 Compared with the average price of working days, the amount of unadjusted price on November 30 is considered. The accumulated price adjustment is less than 50 yuan per ton.
According to Article 7 of the "Measures for the Administration of Petroleum Prices", the prices of gasoline and diesel oil will not be adjusted, and the unadjusted amount will be added or offset when the next price adjustment is made. We are closely tracking the operation of the refined oil price formation mechanism, and further researching and improving the changes in the domestic and international oil market.
Brief Introduction
U Shape Screw Conveyor , which is generally used in processing of food, pharmaceuticals, chemicals, minerals, ceramics, plastic and rubber. Its design is very simple & eliminates the need for any additional operating equipment such as filters or bearing. It consists of electric motor driven spiral, which is the only moving part, rotates within a food grade & sealed tube. The material moves along the spiral within the tube. The unique action of the Screw Conveyor eliminates the risk of the product separation that can take place in conventional pneumatic conveying systems where mixed materials have components of different densities and particle size.In fact,the conveying action ensures constant remixing.Conveyor maximum length can be upto 10 meters for material and may be increased or decreased inversely with bulk density.Vertical installation are also possible, but carrying capacity decreases with increase in angle of inclination. Feed hopper is available in standard size or according to customers specification.

Features
1. It is available in options of stainless steel or mild steel / painted. for most applications, flat : for fine powder. proscrew : for difficult material.

2. Dust free, Easy to Clean, high & low level control, safe & hygienic handling.

3. Accurate metering and high transfer capacity.

4. The main advantage is to low on installation & maintenance costs and high on efficiency and performance.

Application
Chemical industry:resin, pigment,cosmetic, coatings, chinese medicine powder.

Food industry: sugar powder, starch, salt, rice noodle, milk powder, egg powder, sauce, syrup Metallurgy, Mine industry: aluminum poweder, copper powder, ore alloy powder, welding rod powder.

Medicinal industry: all kinds of medicine
Waste treatment: disposed oil, disposed water, disposed dye waste water, active carbon.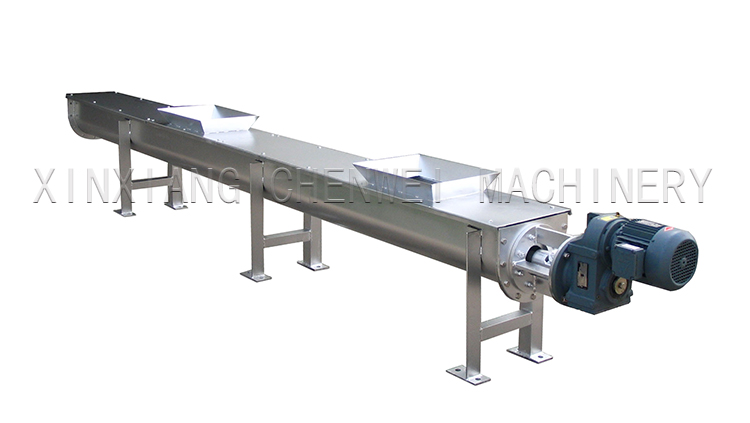 U Shape Screw Conveyor
U Shape Screw Conveyor ,U Trough Screw Conveyor,Inclined Screw Conveyor,Stainless Steel Screw Conveyor
XINXIANG CHENWEI MACHINERY CO.,LTD , https://www.sieves.nl