Product Name: Green Power Natural Gas Generator 250KVA
Model NO.: SPT250GF
Origin: China
Packing: wooden case
Brand Name: Supermaly
Delivery Time: 15 Days
Minimum Order: 1 Set/Sets
Quality System Certification: ISO and CE
Product Details: Green Power Natural Gas Generator 250KVA
Natural gas generator power range from 10kw to 1000kw, powered by Cummins engine, Deutz engine, Cat, or good quality China engine like Sinotruck, Jichai, Zichai, etc.
1. Our advantage and feature of Green power Natural gas generator 250KVA
1 )We are professional genset manufacturer, with decade years manufacturering and exporting experience.
2 )Adopt International quality standards, to meet high quality requirement
3 )Good reputation for Reliable quality & Reasonable price
4 )Strong technical support
5)Advanced production line with skilled workers
6) Fuel consumption: 0.28Nm³/kw.h
7) Running cost of natural gas generator is lower.
8) Our engineer will install the natural gas generator 250KVA on your site.
9) We supply you spare parts during the whole service life.
11) adopt advanced Hall ignition sensor and highly quality USA Altronic ignition system. The engine ignition will be more reliable and easier to start.
12) adopt ComAp or Deepsea controller to make synchronization for generator set. All the parameters can be set in the program and can realize the remote controlling through cell phone or computer.
13) The gas inlet pressure is 2~7kPA.
2. Applied gas:
1) Natural Gas, Biogas, City Sewage Gas, Landfill gas, Oil gas, farm biogas, Coal mine gas,etc
2) Acceptable fuel gas pressure: 5~12kPa
3) CH4 content: for natural gas≥85% CH4 ,content:for biogas≥40%
4) Gas heat value≥5500kcal/Nm3. Gen set output power will increase as the gas heat value increase, if use low heat value gas for fuel (Heat value<5500kcal/Nm3, it will lower the power efficiency
5) Gas does`t include free water or free materials (the size of impurities should be less than 5μm.)
6) H2S content≤200mg/NM³
7) NH3 content≤20mg/NM³
8) Impurities content≤30mg/NM³;size≤5μm
9) Water content≤40g/NM³, no free water.
3. Specification of natural gas generator 250kva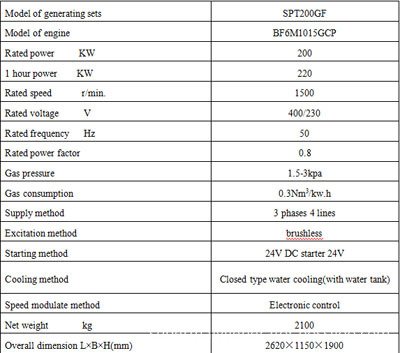 Paramters of natural gas generator 250kva:
1. Rated voltage: 400V/230V, 380V/220V, 240V/120V, 220V/110V
2. Line way: 3 phases & 4 lines
3. Frequency: 50Hz/60Hz
4. Power factor: 0.8 (lagging)
5. Frequency down (%): ≤ 0.5
6. Steady voltage windage (%): ≤ ± 1
7. Instantanous frequency windage (%): (rated power ) +10~ -7
8. Frequency recovering time (s): ≤ 3
9. Instantanous voltage windage (%): +20~ -15
10. Voltage recovering time (S): ≤ 4
11. Wave form distortion (%): ≤ 5
4. Photo of natural gas generator 250kva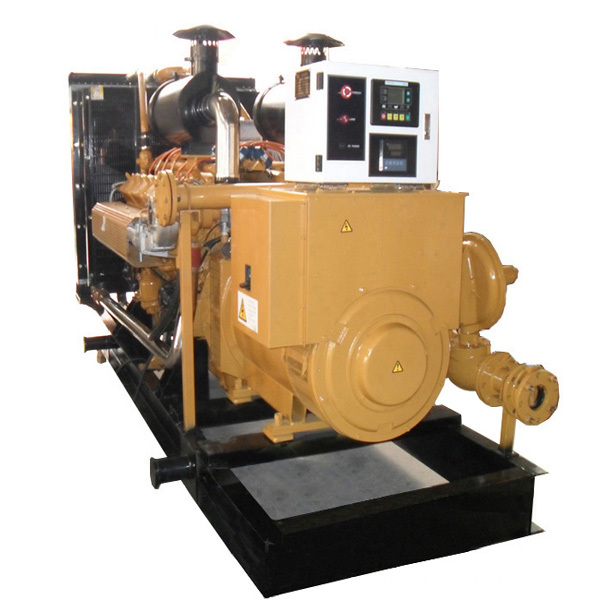 Silent type photos of natural gas generator 250kva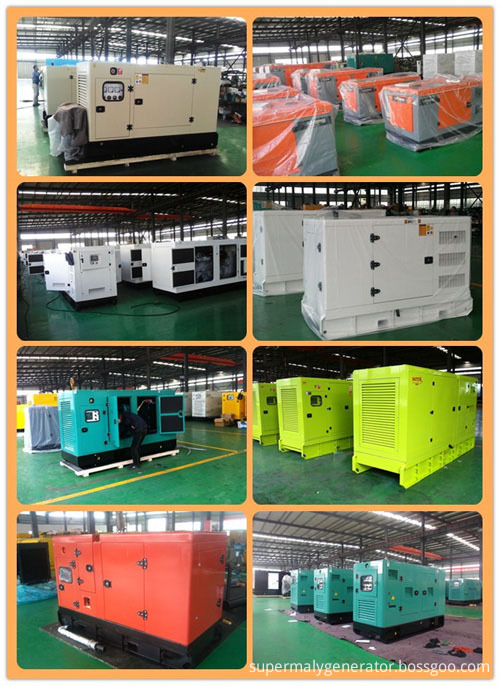 5. Our partner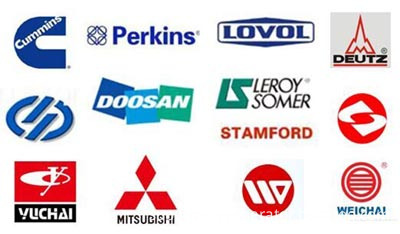 Our factory
our factory 35000 square meters, with 2 hundred million capital.
welcome to visit us.