Product Name: Natural Gas Power Generation Set with Motortech System
Origin: China
Packing: Wooden case
Brand Name: Supermaly
Delivery Time: 15 Days
Minimum Order: 1 Set/Sets
Supply Ability: 5000 sets per year
Quality System Certification: ISO9001, CE, SONCAP
Product Details: Natural Gas Power Generation Set with Motortech System
Natural gas power generation set feature:
1. Our engineer will install the natural gas power generation on your site1, efficient combustion chamber design
By optimizing the design of the piston combustion chamber, faster and more complete combustion, the flame propagation distance shortened to reduce the tendency to knock.
2. A reasonable intake and exhaust Organization
By optimizing the design phase of the camshaft to achieve high volumetric efficiency guarantees, reducing fuel loss caused by scavenging and HC emissions, lower exhaust temperatures.
3. Turbocharger optimization match
By optimizing the matching of the turbocharger, low-speed high torque and faster transient response.
4. Into the exhaust pipe design optimization
Through the intake and exhaust pipe CFD analysis, to reduce the flow resistance, to maximize the uniformity of each cylinder.
5. Valve and seat design optimization
For gas engine lubrication problems without carbon, selected high temperature, corrosion-resistant, self-lubricating properties of good material design special valves, valve seats and valve life with the same diesel engine.
6. Optimizing the design of piston rings
For gas engine intake vacuum degree, resulting in oil consumption problem by using a three-piece oil ring, an effective solution to the gas engine oil consumption problem, the gas engine to achieve the same level of diesel oil consumption.
The specification of natural gas power generation set: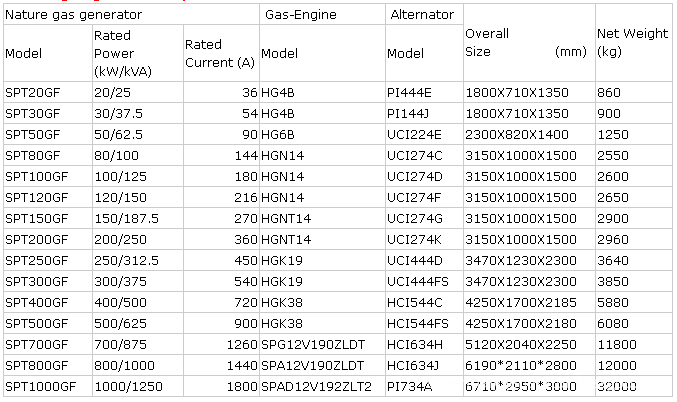 Standard supply scope of natural gas power generation set:
Generator set included: Gas Engine, Brushless Alternator, Radiator, self-starting control panel, circuit breaker panel, Vibration damping pads, Hi-strength base frame .
Accessories Included: industrial type silencer, flexible bellow, Elbow and Flanges, Starting Battery & battery charger, Battery switch with cables
Documents included: manual book, product qualified card
Supermaly factory: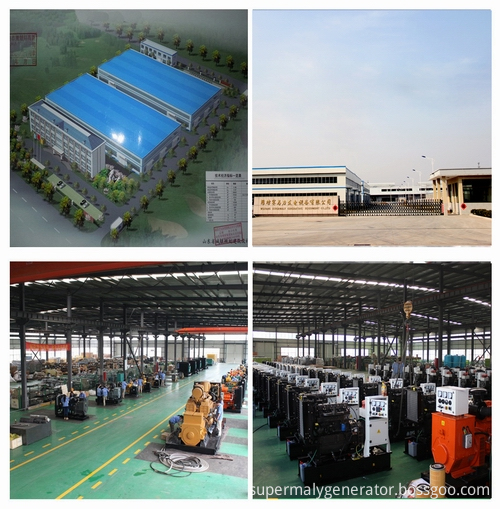 Supermaly exhibition:
Warranty policy of nature gas generation set:
Guarantee for one year or 1500 hours whichever reach first from ex-factory date.
During the guarantee period, we will provide the free easy-damageable
spare parts of diesel engine caused by our quality of production or raw material.
After expiration, we provides cost spare parts maintenance of gensets